Automated Cleaning Systems
More than 20 years of experiences lies behind the newest generation of automatic cleaning systems developed by System Cleaners A/S. The Leda and Calypso line of PLC controlled main stations are engineered to automatically riinse, roam clean, rinse and sanitize many different types of production equipment. These systems consist of a pump to boost water pressure, separate injectors for foam cleaning and flood sanitizing and nozzle/header systems engineered for specific applications. A modern, functional design and the use of stainless steel material ensure a long operating life, easy servicing, and simple operation. The automatic cleaning functions of rinse, foam and sanitize can be programmed into the on-board PLC. On he Leda I  you can choose between automatic or manual cleaning by the turn of a switch on the front of the cabinet.
A built in Grundfos pump will boost plant water pressure to between 90 and 290 PSI, depending upon the system chosen. This centrifugal pump is stainless steel, water lubricated and does not require regular servicing, The noise from the pump is less than 70 dB.
All systems are equipped with an automatic start/stop function. In units with a frequency drive, a timer system ensures that the pump motor ramps down and stops after 30 seconds when water usage ceases. When starting, the pump ramps up ffor 3 seconds, eliminating water hamper issues. A built-in safety system prevents the pump from automatically starting after a power failure.
BENEFITS OF AUTOMATION: 
Improved consistency
Labour savings
Improved water usage
Enhanced worker safety
Increased time available for production due to decresed cleaning times
Better chemical economy
Power savings
Improved cleaning in areas that are difficult to access
Sustainability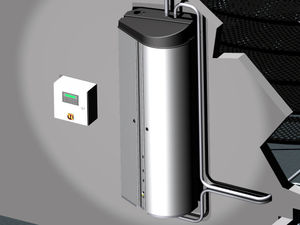 Systematic, PLC-controlled cleaning ensures that the cleaning process is well documented, which is of particular benefit when striving to comply with ISO, HACCP and other standards.
FEATURES OF AUTOMATION:
All cleaning function in a single system
Simple operation (Leda I has one function selector)
Nozzle systems that ensure uniform cleaning
INSTALLATIONS THAT BENEFIT FROM AUTOMATED CLEANING:
Filling machines
Conveyor belts
Massage units
Spiral freezers
Linear tunnel freezers
Scalding cabinets
Screw converyors
Smokehouses
Linear and spiral ovens
Deep fat fryers
Poultry evisceration equipment
Poultry shackles
Tank cleaning
Shell egg washers