A Made In Alberta Solution for Cleaning Methods and Chemical Formulations Designed to Preserve Human Health and Environmental Quality.
E-Chem provides innovative and environmentally friendly cleaning solutions for all your critical equipment or systems. The research and development department of Epsilon Chemicals Ltd. has produced a wide range of biodegradable and safe degreasers and specialty cleaning products formulated to tackle all your cleaning needs, including:
Surface degreasing
Circulation degreasing
Crude oil deposits
Heavy bitumen deposit removal.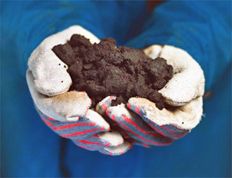 Strategically located in the Edmonton Research Park, E-Chem has an active and dynamic R&D program that is committed to developing innovative and eco-friendly new products for industry while maintaining a balance between safety and efficacy.
The production of environmentally responsible products is a major goal of Epsilon Chemicals Ltd. We strive to ensure that all of our products contain biodegradable surfactants that are produced from renewable or natural sources in order to help preserve human health and environmental quality.
Organic solvents such as glycol ether EB are replaced with effective biodegradable emulsifying agents or biodegradable solvent-like materials obtained or derived from renewable/natural resources (eg. d-limonene, fatty acid esters).
Block "145" not found